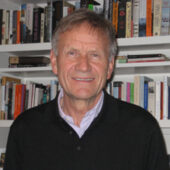 Ian Taplin
Professor
004C Kirby Hall
336.758.4880
taplin@wfu.edu
B.A. – University of York
M.P. – University of Leicester
Ph.D. – Brown University
After spending a year studying art and architecture at Oxford College of Architecture, I attended the University of York where I received a BA in sociology. Following postgraduate studies, at the University of Leicester (M.Phil) and Brown University (Ph.D.), I joined the Wake Forest faculty in 1985. Since then I have held visiting appointments at the Graduate School of Management, University of California- Irvine, University of Bradford Management Centre, Napier University, ESC Toulouse, and am currently a Visiting Professor at Kedge Business School (Bordeaux). At Wake Forest, I hold a joint appointment in Sociology and International Studies and am currently director of the International Studies minor.

My research focused initially on work relations in the US coal industry and my early publications examined how the evolution of post-World War II industrial relations was shaped by intra-union struggles as well as a legal environment progressively hostile to worker rights and on-the-job decision-making. From this early research, I became fascinated with the rationale behind managerial behavior in the workplace and this led to extensive studies of the US clothing industry, particularly the adoption of new practices such as teamwork. Such studies were placed in a comparative context with the publication of two edited books that examined how a labor-intensive industry such as clothing, located in high-wage economies, was responding to the growing competitive pressure from low-wage production sites in industrializing nations. My general interest in problems in the organization of work, particularly the link between managerial behavior and organizational change as firms evolve, led to my next book, Understanding Organizational Evolution [Quorum Books/Greenwood Press].

As the textile and clothing industry moved offshore, I focused my attention on new industries and for the past few years have examined the growth of the North Carolina wine industry. For the past 400 years, people have struggled to make wine in the state, with varying degrees of success. However, in recent years, the industry has seen considerable growth and is seen by some as a possible alternative to tobacco. I am particularly interested in how entrepreneurial activity in this infant industry is shaped by changing product demand conditions and the emergence of a wine cluster that facilitates knowledge sharing amongst key actors. From this research, I have published a number of articles plus a book entitled The Modern American Wine Industry: Market Formation and Growth in North Carolina (Pickering & Chatto Publishers). I currently am serving my second term on the North Carolina Grape Council, an advisory body that is part of the NC Department of Agriculture.

In parallel with the above wine research, I have been examining the changing competitive landscape amongst ultra-premium wineries in Napa Valley, California. In this research, I have analyzed the historical organization of a wine market in the area, how various agents have shaped and structured exchanges in ways that engender efficiency, and how the resulting market space encourages product differentiation and new entrants. I look at how firms have developed dynamic capabilities in conjunction with technological innovation and considerable resources to create a distinctive brand and in some cases an iconic product. I am currently writing a book on this that will place the results of my research in a broader historical narrative.
Examining cult wineries also brought me back to work in the clothing industry, particularly the upper echelons of luxury goods. This, and an abiding interest in art markets and my continued wine research is the subject of my recent book (The Evolution of Luxury, Routledge/Taylor and Francis). In this book, I examine how recent patterns of concentration in the luxury goods industry have transformed the historical artisanal nature of the sector. Large conglomerate firms now dominate the marketplace and pursue strategies of providing affordable entry-level luxury goods aimed at a broader market of consumers in addition to catering to an ultra-rich elite. Chapters on Napa luxury wine and the changing role of art markets that cater increasingly to the global rich complete my historical analysis in this book.

In addition to editorial board responsibilities in several journals, since 2001 I have been the North American Editor of the Journal of Fashion Marketing and Management.
COURSES TAUGHT
SOC 152:  Social Problems
SOC 303:  Business and Society
SOC 362:  Work, Conflict, and Change
SOC/INS 363: Global Capitalism
SOC/INS 365: Technology, Culture, and Change
INS 250: Seminar in International Studies
INS 260: Global Trade and Commerce Studies
Business Strategy in the Summer Management Program
International Business and Strategy in the Wake Forest University MBA program